Content Count

46

Last visited

Player

Juls
About Dorothy Parsons
ID Card
Role
Playby

MS Skunk (Cosplay of Sadie Adler)

Full Name
Goes By
Profession
Position
Birth Date
Status
Height
Hair Color
Eye Color
Physical Description
Dresses remind Dorothy of her time spent in a brothel. She prefers a simple shirt and man's trousers that she really does take some effort to keep clean, but inevitably it has a dirt mark or stain upon her outfit somewhere soon enough.
She doesn't sport much jewelry. Just a heavy belt buckle and a small copper pendant with two tiny emeralds embedded into it. This she usually keeps tucked beneath a scarf or under her shirt.
She wears a little too much eye makeup, darkening her brown eyes. Heavy rouge colors her freckled cheeks and pale complexion. Her lips she never paints. Even when they start to get a bit chapped in the winter, she dislikes having anything on them. Her blonde hair, well overdue for a trim, is often pulled into a pony tail or a braid that starts off neat but usually ends up falling loose beneath her brown and black hat that she wears like a shield, using it to hide her expression and emotions when her 'tough girl' persona starts to slip.
If she'll let you get close enough, she often smells of horses and whiskey with a small hint of mint
Around her hips she wears a pistol belt that contains her matching set of Smith & Wesson Schofield Revolvers.
Traits & Characteristics
Distrusting - People in general are not to be trusted.  Overly friendly behavior is met with immediate suspicion. 
Crude - often uses unladylike language.
Ashamed of her past - not the robberies... but the time spent as a Soiled Dove
Employment
World's oldest profession at Owen Donley's Brothel in Odessa, Texas
Outlaw in Robert Baker's gang of thieves, whose hideout was in New Mexico
Expertise
Slight of hand - Picking pockets or stealing a bit of candy from the penny jars...  she's gotten good at not being noticed. 
Lying - she can look ya in the eye and twist the truth.
Horses - avg skill level.  She was taught by Sparrow Hawk, so she tends to get on and off on the 'Indian' side.
Gunslinging - though she carries two Schofield revolvers and has gotten to be a fairly decent shot, Dorothy has never actually killed anybody, even if she'll let you believe otherwise. 
Aliases / Nicknames
Anna Jackson, Angel Baker
Residense(s)
(1851-1869) Pittsburgh, PA
(1869-1872) Odessa, TX
(1872-1875) Little Blackwater, NM
Kith & Kin
Brother - James (1845 - 1869)
Sister - Emma (1847 - ? most likely alive, though Dorothy hasn't seen her in over 6 years.) 
Life Events
1851 - Born in Pittsburgh, PA as the youngest of 3 children.  Her father mines coal.  Her mother works as a seamstress. 
1854 - Father dies during the Cholera outbreak and things declined from there when their mother had trouble coping both financially and emotionally, turning to alcohol way too often, leaving Dorothy's upbringing mostly to her two older siblings.  With little guidance, the young girl found herself left to her own devices more often than not, which led to minor trouble and petty thievery.
1869 - Her older brother James, tired of the coal mines, decides to head west.  Dorothy, barely 17 at the time, choose to go with him.  The brother and sister spent the next six months traveling slowly west, both picking up odd jobs. When funds were low, they'd sometimes resort to less than scrupulous ways of making money. Which usually meant Dorothy offering her "services" for the night and then she and James robbing him of his valuables.
This caught up to them in Texas when they unknowingly intruded upon the territory of Owen Donley, who ran several established brothels in the area. When he caught wind of this, he sent several men to put a stop to it. Which meant a bullet for James. And Dorothy was immediately added to his collection of whores, where she spent the next 3 years. Until...
1872 - The notorious outlaw Robert Baker (a.k.a. "One-Eyed Bobby") and his crew stopped for a night of fun at Donley's brothel. Bobby took a shine to Dorothy and, despite a bit of protesting from Owen Donley, took her with him, where she became one of his crew.  
Spring 1875 - The bandit crew robs a train in Texas, making off with a bank transfer.
Early summer 1875 - Bounty hunters catch up with the bandits in New Mexico.  One Eyed Bobby is captured.  The survivors scatter. 
Character Notes
Gang members
Dead or Captured:
Robert Baker (a.k.a. One Eyed Bobby) - captured in New Mexico. Hung in Texas.

Born: 1841 in Texas. 
Fought on the side of the Confederacy as , where he lost a brother and his eye. 
His family's ranch was confiscated after the war and sold to Union supporters, cementing Bobby's hatred of anything related to the Union government.  Law & order = corruption in his mind. 

Sparrow Hawk - Navajo, Bobby's right hand man - shot and killed in New Mexico 
David Goller (a.k.a Bones) - killed in New Mexico

Born: 1856 in South Carolina

Charles Goller - status:  Captured in Colorado, sent back to Texas for trial.

Born: 1852 in South Carolina
Wanted:
Dorothy Parsons (a.k.a Angel) 

Wanted in Texas for connection to train robbery. Bounty: $100
Paul Smith (a.k.a Smitty)   

Wanted in Texas for murder, train robbery, stagecoach robbery. Bounty: $300
Wanted for atrocities against civilians during civil war.  Bounty: $500 

Sabotaged train tracks to disrupt supply chain that led to a derailment and caused the deaths of 7 civilians.

Friends with Robert Baker since childhood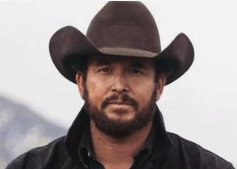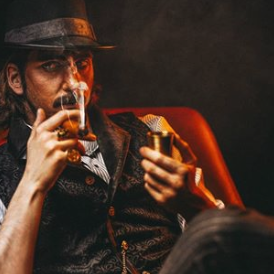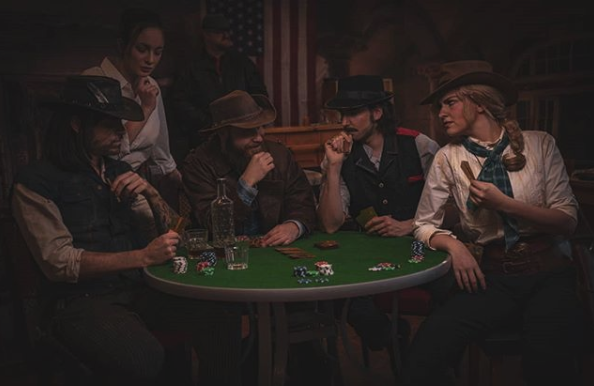 (Sparrow, Smitty, Flinch, & Dorothy)
Player Notes
Play by artwork credit:  https://www.instagram.com/msskunk/
Dorothy is currently at a crossroads in life... with Bobby dead and the bandit gang scattered, she's scared enough to try walking the straight and narrow for awhile.  But she could just as easily fall in with a different gang of low-life scum. 
I enjoy using dice for anything combat related.  It makes thing unpredictable and exciting, even if my characters end up injured.  
Other Characters by this Player
Prospector / Treasure Hunter

INACTIVE

7 posts

Player

Playby

Bill Pullman

Goes By

El or Elmer

Birth Date

10/21/1815

Height

5'10"

Hair Color

Brown/Grey

Eye Color

Blue
Wanted in Texas

INACTIVE

0 posts

Player

Playby

theweaseleye as Dutch (Cosplay)

Goes By

Flinch

Birth Date

1844

Height

5'8"

Hair Color

Dark Brown

Eye Color

Green
Bounty Hunter

INACTIVE

0 posts

Player

Playby

Dominick John O'Malley

Goes By

Frank

Birth Date

01/15/1839

Height

5'11"

Hair Color

Blond

Eye Color

Brown